Outer Dowsing Offshore Wind successfully completes a five-month geophysical investigation (04/03/2022)
Outer Dowsing Offshore Wind has successfully completed a five-month geophysical investigation at the site for the proposed 1.5GW wind farm.
Outer Dowsing Offshore Wind contracted Enviros Survey & Consultancy to carry out the geophysical investigation of the main array area..
The survey work started in August 2021, using the vessel Guard Celena, with completion in March 2022.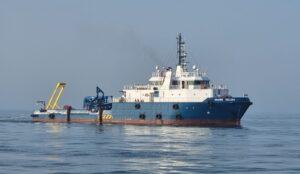 TotalEnergies and Corio Generation's 1.5 GW project proposal was selected by the Crown Estate as part of the UK's Round 4 offshore wind leasing process.
Outer Dowsing Offshore Wind will be one of the UK's largest offshore wind farms upon completion. It is anticipated it will generate renewable electricity equivalent to the annual electricity consumption of over 1.6 million households and will play a critical role in achieving the UK Government's ambition to deliver 50 GW of offshore wind by 2030.
Outer Dowsing will displace nearly 2 million tonnes CO2 equivalent per year of operations through the generation of renewable electricity, equivalent to removing over 650,000 petrol cars from the road for the duration of the Project.