Outer Dowsing Supports Local College Careers Fair (03/04/2023)
A central ambition of the Outer Dowsing vision is to deliver opportunities for local communities, and this week we spent a day at the John Spendluffe Technical College in Alford, talking to students about the career options that the offshore wind industry will bring.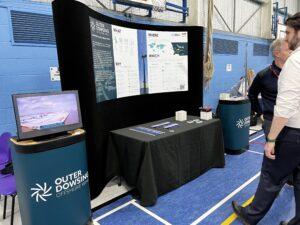 As part of the college's careers fair and options day, our team staffed an exhibition stand for the day, talking to 650 young people about the types of roles available, routes to entry and the benefits of working in offshore wind.
"We were very impressed by the enthusiasm and knowledge of the students" said Outer Dowsing Development Manage Chris Jenner.
"Whilst we had a lot of questions from students wishing to pursue a career in engineering, we also had a lot of interest in possible careers in environmental and commercial roles. The beauty of offshore wind is the diverse nature of skills required, so whatever your interest, there is an opportunity for you to develop a career in the industry."
"I would like to thank Paul Simpson, his team and all of the students for making us feel so welcome and we look forward to working with them again in the future".